DEStech Transactions on Economics, Business and Management
ISSN: 2475-8868
DEStech Transactions on Economics, Business and Management is dedicated to archiving conference proceedings in all areas related to economics, business and management. Research fields covered include:
Accounting
Business Ethics
Business Intelligence
Business Law
Business Performance Management
Business Statistics
Comparative Economic Systems
Corporate Finance and Governance
Cost Management
Decision Sciences
Economic Development
Economic Methodology
Economic Policy
Economic Systems
Entrepreneurship
Finance & Investment
Global Business
Human Resource
International Business
International Economics
International Finance
Labor Relations & Human Resource Management
Law and Economics
Management Information Systems
Management Science
Marketing
Operations Research
Organizational Behavior & Theory
Product Management
Public Administration
Public Economics and Finance
Public Relations
Resource Management
Strategic Management
Strategic Management Policy
Stress Management
Supply Change Management
Total Quality Management
Welfare Economics
Other Related topics economics, business and management
Proceedings
ISBN
2017
978-1-60595-446-2
978-1-60595-502-5
978-1-60595-467-7
978-1-60595-451-6
978-1-60595-503-2
2016
978-1-60595-434-9
978-1-60595-368-7
978-1-60595-365-6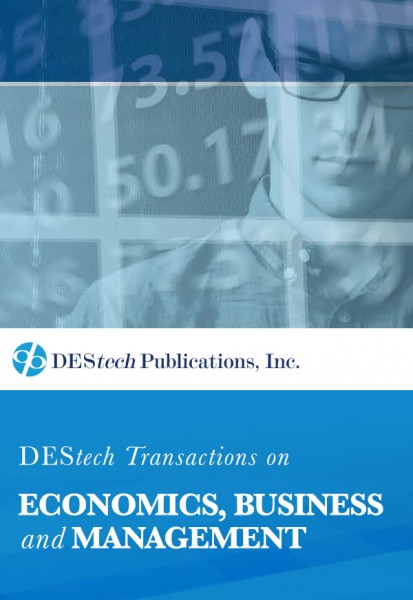 Join 55,000+ Professionals. Sign Up Today!
Be the first to know about new books in your field, get special discounts and more!
We send about one email per month and will never spam you. Your information is secure and never shared with third parties.
Thank You For Signing Up
To Receive DEStech Emails!